Base info - Marina Spinut
The marina is situated off Spinut, a suburb of Split, on the N side of the Marjan peninsula, the wooded peninsula at the W end of the city. It is protected from N and W winds by a long breakwater and from E by wavebreak pontoons. Within the marina there are two basins, a large W basin and a smaller E basin. The E basin is operated by the Sportska Lucica Split yacht club. Between the basins there are a total of 780 berths for yachts up to 25 metres and in depths of up to 5.0 metres.
In the area of the marina there are two restaurants, one caffe bar, a shop offering nautical equippment, various services for boats, sailing schools, parking, nice pebble beach... Whole area of the marina is supervised 24 hours. It takes 15 minutes to walk from the marina to the old town of Split.
Navigation/Approach
The marina of Spinut lies on the SE shore of the Kastelanski Zaliv (Bay of Kastela), which is entered between Cape Ciovo at the E extremity of the island of the same name and the wooded peninsula of Cape Marjan two miles W of Split. Once round the Marjan peninsula, being sure to leave a green light buoy just N of Cape Marjan to starboard, continue E along the peninsula. Spinut is the first harbour to be encountered, about a mile E from Cape Marjan. The marina is entered from E between a long breakwater and the wavebreak pontoon of the Sportska Lucica Split yacht club.
Berthing
Berthing assistance available. Yachts berth stern/bows-to where directed on one of 12 long pontoons in the W basin or, if there is space, on the yacht club pontoons in the E basin. Laid moorings at all berths. Maximum depths in the W basin are 5.0 metres but there is little more than 2.0 metres at the inner end of the pontoons. Depths in the E basin are unknown but likely to be 3.0 metres or more.
Marina facilities
• Café/bar
• Restaurants
• Chandlery
Repairs/Yard
Small boatyard. Hard standing for up to 250 yachts. Crane (5T). Limited engine, electrical and electronic repairs.
Security
Moderated.
Marina Location
The marina is situated two kilometers from the centre of Split, which is a major transport hub, with an international airport and good rail links. The airport itself is only 20 kms W of the marina.
Transport
• Buses and trains to Zagreb
• Ferries to Rijeka, Dubrovnik and Ancona (Italy)
• International flights from Split airport (20 kms)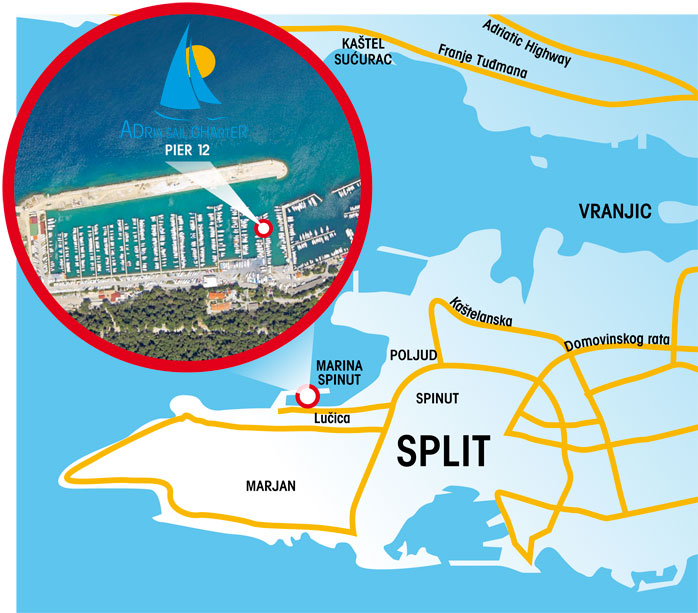 GPS: 43°30.9'N, 16°25.08'E
Berths: 780
Max length: 25.0 metres
Max draft: 5.0 metres
Fuel: Fuel station in Split main harbour
Water: Yes, on berth
Electricity: Yes, 240v
Toilets: Yes
Showers: Yes
Laundry: No
Internet: No
Wi-Fi: No
Parking: Yes
Address:
Marina Spinut, Lučica 7, HR-21000 Split, Croatia
Contact person:
Ilijana Pilić
info@adriasailcharter.com
+385 95 3990738
Base Manager:
Joško Pilić
josko@adriasailcharter.com
+385 91 5181347